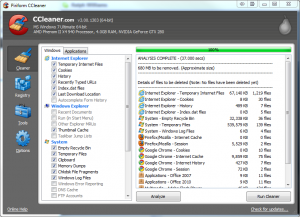 Give your computer a refresh with CCleaner. CCleaner will clean your temporary files, cache, and various parts of your system. Not only will your computer speed improve, but you'll gain disk space as well. The picture above shows I'll be saving 680 mb! If you're tight on disk space CCleaner is also a good option to minimize unneeded files and save disk space.

CCleaner also has other tools and a registry fixer which may or may not improve computer speed. It's an extremely controversial topic. Lifehacker posted an article debunking common myths for speeding up your computer, listed was registry cleaners.
One aspect I see missing from CCleaner is automation. If there was a way to automate running CCleaner, it would be a lot more efficient because I could run it at night while my computer is idle.
CCleaner can be downloaded here.
Questions or comments leave them below.